Round Opening Perforated Metal Mesh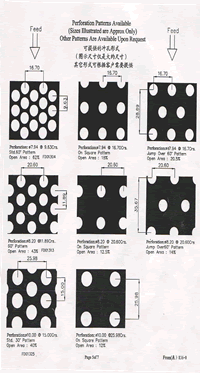 We had a full and comprehensive finishing service for all of our materials including cutting, annealing, slitting, forming, bending with a return or radiused and welding. Cut pieces of mesh can be made to your specific requirements.
Material : Stainless steel, Carbon steel, Galvanized steel, Aluminum, Brass,ect.
The hole shape: Round.
Uses: perforated metal can be used in filter of automobiles internal-combustion engine, sieving of mine, medicine, grain, sound insulation of room, ventilate of grain store, etc.
Perforated Metal is one of the most versatile products on the market today. A fully functioning product by it's shape of perforated opening and gauge and size--it can be tough in gauge and work hard at screening and filtering a variety of solids in the marketplace. On the other hand, it's same features can be lightweight in gauge, have small or large optically appealing openings and be very suitable for many architectural and display uses.
Perforated Metal is widely used in automotive, lighting, construction, agriculture, petrochemical, laundry, mining, military and acoustical applications.
Perforated Metal contain hole patterns of varying sizes and shapes created by punching presses. Types of hole patterns include staggered rounds.