Diamond Opening Expanded Metal Architectural Mesh
Diamond mesh expanded metal combines strength with the traditional charm of delicate wrought iron work. It is suitable for many different uses, both internally and externally.

Metal Materials:
Diamond mesh expanded metal can be supplied in uncoated or zinc-coated steel or in aluminium in sizes to suit most domestic or architectural applications.

Benefits of Using Rhomb Expanded Metal Mesh:
Light weight and high strength
Can be bended for added design freedom
Ideal as a decorative and/or protective material
Cooling refreshing breezes can pass through the mesh
Available in Copper, Aluminium, Stainless Steel, and Brass by enquiry as well as the standard high-grade, low-carbon steel sheet & zinc coated sheet.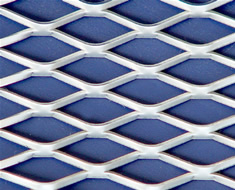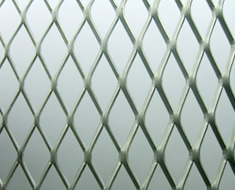 | | | | |
| --- | --- | --- | --- |
| Long diagonal | Short diagonal | Pass | Thickness |
| 6 | 3 | 0.4 | 0.4 |
| 6 | 3 | 0.8 | 0.3 |
| 6 | 3 | 0.8 | 0.4 |
| 10 | 5 | 1 | 0.5 |
| 10 | 5 | 1 | 0.8 |
| 10 | 5 | 1 | 1 |
| 16 | 8 | 1 | 0.5 |
| 16 | 8 | 1 | 0.8 |
| 16 | 8 | 1 | 1 |
| 16 | 8 | 1.2 | 1 |
| 20 | 10 | 1 | 1 |
| 20 | 10 | 1.5 | 1 |
| 20 | 10 | 1.5 | 1.5 |
| 30 | 13 | 1 | 0.5 |
| 30 | 13 | 1 | 1 |
| 30 | 13 | 1.5 | 1.5 |
| 30 | 13 | 2 | 1 |
| 30 | 13 | 2 | 1.5 |
| 60 | 30 | 2.5 | 1.5 |
| 60 | 30 | 3 | 2 |
| 60 | 30 | 3 | 2.5 |
| 60 | 30 | 3 | 3 |
| 60 | 30 | 4 | 3 |
| 60 | 30 | 6 | 3 |
| 80 | 40 | 2.5 | 1.5 |
| 80 | 40 | 3 | 2 |
| 80 | 40 | 4 | 3 |